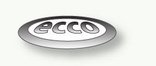 Timeless designs with lasting value for the home and for everyday living.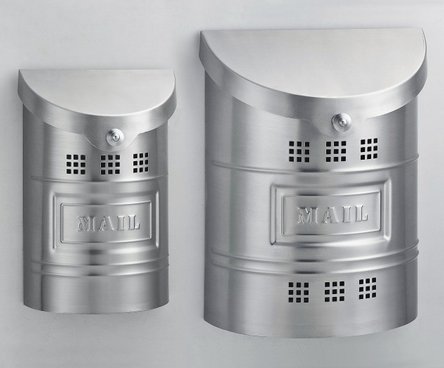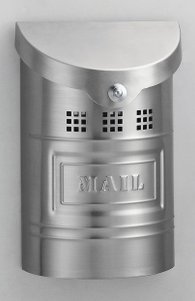 The E1 and E2 mailboxes have a monolithic appearance with a subtle curved front design featuring see through perforations. The sloped top allows for easy viewing and retrieval of contents.
Both E1 and E2 mailboxes are crafted from 20 gauge stainless steel and are available in a polished or satin finish. The painted version is made of galvanized steel finished in a powder coat satin black paint.
Size: 8 W 12.75 H 3.5 D. Hardware included.
E1M Polished stainless steel
E1XM Satin stainless steel
E1BK Satin black paint finish
The optional SS curved newspaper shelf features similar perforations as the mailbox and is available in matching finishes. Wall mount installation using screws provided.
Click on E2 button on the left to view larger model.
NS Polished or satin SS. 15 W 5.5 D.
The polished finish is a mirror finish similar to chrome.